Mammoth Lakes Real Estate Market Report as of July 1, 2020
The past few months proved to be exceptionally slow regarding sales activity.  This said, activity is picking up and the inventory available appears to be in high demand.
National home sales spiked for the month of May to a record high since tracking of the home sales began.  See the CNBC Housing Report.
Pending Home Sales Spiked to 44.3% in May beating expectations by 15%.
Sales Volume was still lower
Average 30-year fixed rate mortgage 3.2% during this period
New Coronavirus hot spots could derail trends
Single Family Homes
The single-family home market in Mammoth Lakes has produced 37 sales year-to-date. Median year-to-date home prices are $750,000, which is down (-5.4%) in comparison to 2019's median price for the entire year.  Interest rates remain low. If you are not Selling, it may be a great time to refinance or purchase.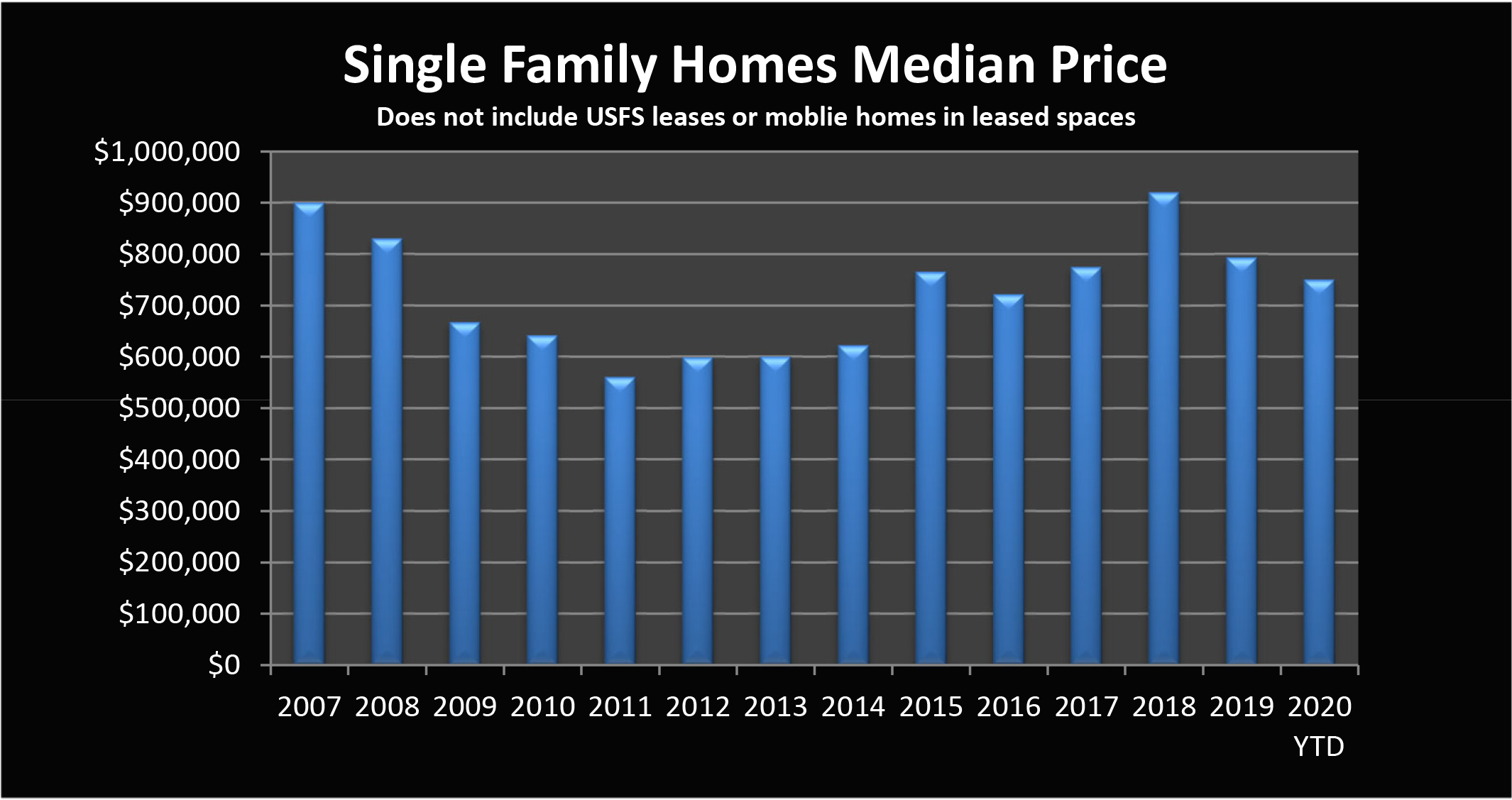 Condominium Market
As of July 1, 2020, the year-to-date median price for a condominium in Mammoth Lakes was $452,000, which is slightly higher than 2019's median price and $5,000 lower than last month. This median price was determined by considering 100 sales year-to-date.
For the remainder of the year, we are going to provide graphs showing the total number of sales by month, year over year.  This should help us see the impacts of Covid 19, and hopefully our recovery.
Town of Mammoth Lakes Launches Business Assistance Program
Businesses must have at least one and up to 10 full time equivalent employees (FTEs) and less than $1,000,000 in gross revenues in the prior year (January 1, 2019 – December 31, 2019) from operations within the Town of Mammoth Lakes.
Businesses must have a physical, commercial storefront in the commercial zoning districts Businesses must have been in operation, with a current business tax certificate, for one year prior to March 30, 2020.
Businesses must demonstrate that immediate assistance from other sources is inadequate, unavailable, or unlikely to meet financial needs to secure opening and ongoing operations and/or to retain jobs.
The initial grant application period will close on July 10, 2020. After staff evaluates applications for meeting eligibility requirements, the committee will review applications prior to July 27 and funding will be allocated by August 10.
For more Information visit Business Assistance Program
Featured Listings
With lower than typical inventory, attractive interest rates and Buyer's mindsets trending toward rural communities, you can find comfort in knowing there is a market for Sellers out there.
75 Larkspur Lane – Crowley Lake (Under Contract for Purchae) – This house in Crowley Lake is immaculate and priced well. 3 Bedroom (plus bonus room), 3.5 bathrooms with each bedroom having its own private bathroom.  The living room has views of the local mountains and the back deck is ideal for morning coffee or watching the sunsets in the evening.
Video Tour or our Matterport 3D Virtual Tour
2218 Old Mammoth Road – Mammoth Lakes – Duplex in Old Mammoth with mature aspen trees and Mill Creek running through a very private and forested back yard. This is a unique setting for Mammoth Lakes and could likely afford plenty of room to add a garage (feasibility of a garage to be determined through buyer investigation). Live in one side and rent the other, or purchase as an investment property. Property is zoned Rural Residential and does not permit nightly rentals. Unit A (east side) has 5 bedrooms and 2 bathrooms. Unit B (West side) has 2 bedroom and 1 bathrooms.
3221 Main Street – Restaurant Property – Formerly Slocums Grill and Bar; One of the best restaurant locations in Mammoth Lakes, situated on the south site of Main Street with 100 feet of frontage. Great Parking!!! 35 onsite parking spaces with 8-10 public spaces offsite. 4,989 square feet of restaurant space with excellent visibility. Sale includes real estate, FFE, and Type 47 liquor license (business and business name not included in sale-not negotiable).
Read CNBC news about Mortgage Applications Spiking in May 2020
For more information listen to our podcasts, just visit  "In Lehman's Terms" .
If you know of anyone that would be interested in receiving our monthly market report, please send them this link: https://trademarkmammoth.com/buy/quarterly-market-report/  or and have them sign up here.  They can unsubscribe at any time.