Things to do in Mammoth are seemingly endless once you get to know your way around.   During the Winter season Mammoth Lakes is best known for its big mountain and deep snow base, but for many people skiing every hour of every day can be exhausting and in a season like 2013/2014 the snow storms are few and far between.
So what else is there to do?  Here are a few ideas: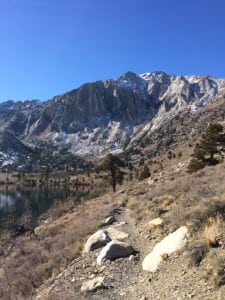 Hiking: Depending on the snow level there are many hikes just outside of the town limits.  Convict Lake has a relatively level hike around the lake's perimeter with incredible views of the granite peaks and the lake itself.  If there is still too much snow at Convict Lake, Lower Rock Creek Canyon is just 15 minutes further east and has up to 8 miles of trail inside the canyon and along Lower Rock Creek.   Additional hikes can be found around Bishop when the winter seasons are heavy.  For more information on Trails in Mammoth Lakes Click Here.  Lower Rock Creek is also a great place for Mountain Bike riding and can be access from the community of Paradise or the upper canyon near the intersection of Highway 395 and Lower Rock Creek Road.
Hot Creek: It amazes me how few people have even heard of Hot Creek, let alone seen it.   Hot Creek is a natural geological wonder located just a mile or so north east of the Mammoth Lakes Airport.    The Owens River flows past these boiling pools of aqua blue water which occasionally show off low level geysering.   There is a road to Hot Creek and a foot path into a canyon offering closer views of the pools.  Many movies including True Grit and North to Alaska were filmed at this location.
Snowmobiling: Mammoth has to primary areas in which to rent snowmobiles… Mammoth Mountain Ski Area and DJ's snowmobiles; about 4 miles north of Mammoth Lakes on highway 395.  If you haven't tied snowmobiling it's a great way to see some of the hundreds of miles of trail the Inyo National Forest has to offer.   There are designated rides for beginners and advanced terrain for those who have their own machines.
Snowshoeing and Cross Country Skiing:  Another good way to experience the great outdoors is cross country skiing and snowshoeing.  While an adventurous person could venture off in nearly any direction for a day on the snow, most choose to go to Tamarack Lodge at Twin Lakes.   This ski/snowshoe center has the convenience of equipment rental and miles of groomed trail.   Another popular location is the trailhead at Shady Rest Park.  This area offers semi-groomed trails and caters more to folks that bring their own equipment.
Mammoth Rock N Bowl: A recent addition to Mammoth Lakes was the creation of our newest bowling alley.  This state of the art bowling alley will make you wonder if you are actually in a small resort mountain town.  Mammoth Rock N Bowl has bowling, games, three top notch golf simulators, the Mammoth Rock Brasserie Restaurant, bar and even meeting rooms.   The restaurant and rear patio both have incredible views of the Sherwin Mountains.   Mammoth Rock N Bowl is a great time for families and those looking for something more conventional to do.
Ice Skating: If you having tried ice skating the Mammoth Ice Rink offers a great opportunity to slip on a pair of skates and take the kids out for a few hours on the ice.  The rink is open during the winter months, usually from 9:00am to 9:30pm with skate rentals available.   For more information just visit Ice Skating in Mammoth
These are just a few ideas of Things to do in Mammoth