Mammoth Lakes Market Report – February 2021
Facts, Figures and Other Interesting Information:              
As of February 1, 2021
Single Family Homes – Active Listing Information:
The Median (middle of the range) Listing Price for a home in Mammoth Lakes is $3,300,000
The Average Listing Price for a single-family home in Mammoth Lakes was $3,124,000
The lowest listing price of a home in Mammoth Lakes was $887,000 (next lowest $929,000)
There are 16 single family homes listings in Mammoth Lakes (about a 1-month supply)
Condominiums:
The Median Listing Price of a condominium in Mammoth Lakes is $485,000
The Average Listing Price for a Condominium in Mammoth Lakes is $566,208
There are 23 condominiums available for purchase in Mammoth Lakes
The lowest price active listing condominium is $$297,000 the highest is $1,299,000
December Homes Sales & Price Report from California Association of Realtors
The Hottest and Coldest Running Housing Markets in the Country (CNBC)
Single Family Homes
The median sales price for a single-family home, Year-to-Date in 2021, is $1,320,000 (up 49% vs. 2020).  The single-family home market in Mammoth Lakes produced a total of 126 sales in 2020 and a median price of $885,000.  The YTD median price is based on only 31 sales and subject to substantial changes as more sales take place throughout the year. The ongoing reason for the sharp increase in median price is the lack of single-family home inventory; 16 active listings with only 4 listed under $1,000,000.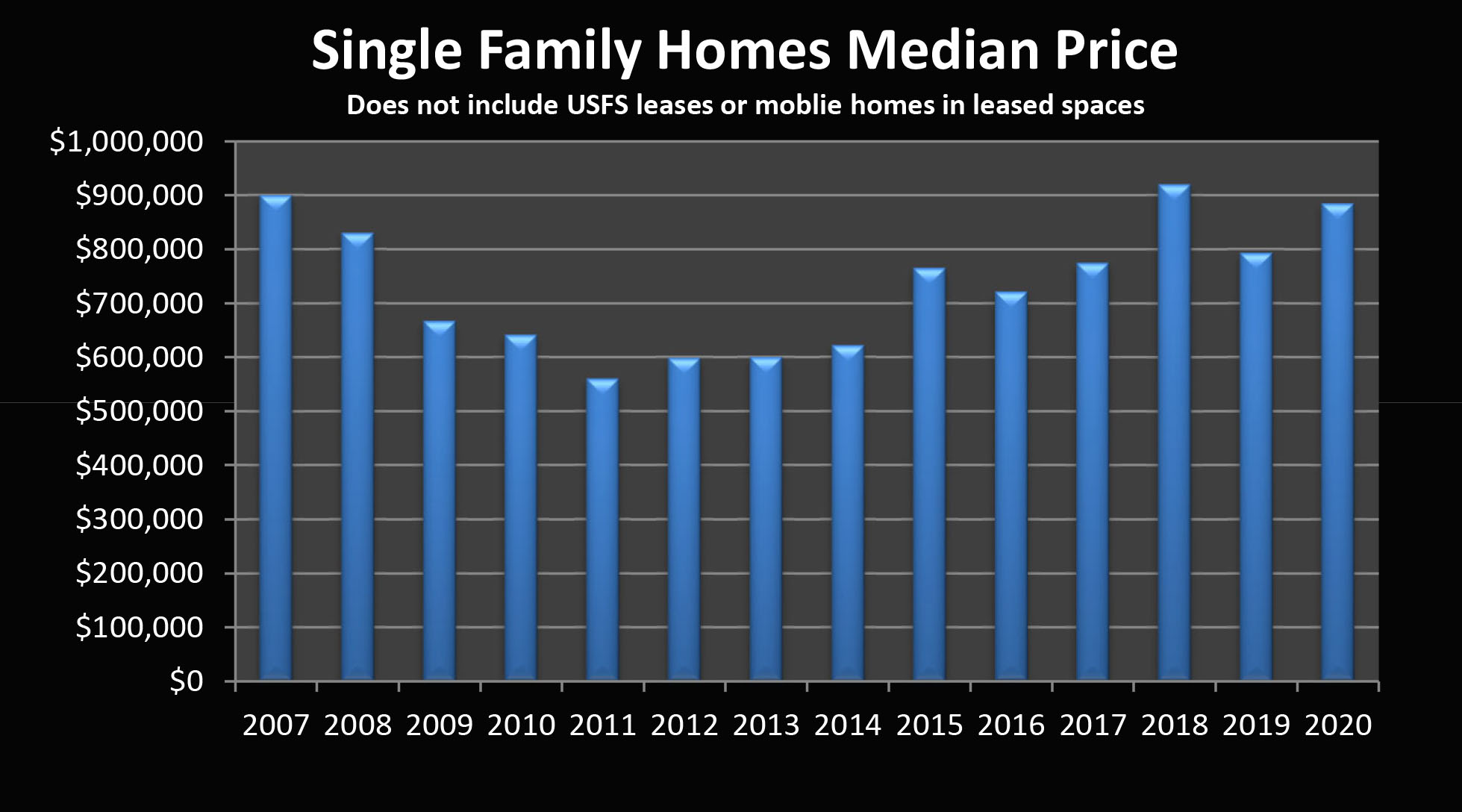 Condominium Market
As of February 1, 2021, the YTD median price for a condominium in Mammoth Lakes was $405,000, which is -lower (-10%) than the median price observed for all of 2020. This median price was determined using only 31 sales YTD, compared to 442 sales in 2020.  Because it is early in the year and there are few data points, this figure is subject to substantial change as more sales take place.
Featured Listings
106 Ridge Way – Located in the desirable Snowcreek Crest neighborhood.  This home features 5 bedrooms, 5 bathrooms and a great Ski Room for the avid skier/snowboarder family. This home has 5,583 square feet of living area, a two-car garage, and a recreation room.  Because the home is south facing, it receives ample sunlight and has great views of the Sherwin Mountains.  Take our 3D Virtual Tour!
436 Old Mammoth Road, Suite 1 (Commercial Corner) – Highly visible commercial suite on one of the busiest corners in Mammoth Lakes.  This location is presently home to ATT, and formerly Starbucks. The Suite is 1,850 square feet of leasable area with great glass exposure on both street frontages.
215 Upper Canyon (vacant land-Paradise) – This gorgeous 4.22-acre parcel sits at the end of a small, private, gated community and is ready for development! All the utilities are already underground to the lot, so you will not be paying for digging wells or septic systems. Hike to your hearts content next to Lower Rock Creek.
South Landing (parcel of Land) – 1.22 acre parcel of land located in the heart of Crowley Lake.  This parcel is zoned Commercial and has Hilton Creek running through the southern 1/3 of the property.  Owner has been paying into the Mountain Meadows Community Water District for up to 10 units. Sewer line runs through the northern edge of the parcel.
For more information on Matthew Lehman or Ashley Toups, please visit our About Us Page.
Visit out Podcast Page for information about topics unique to Mammoth Lakes.