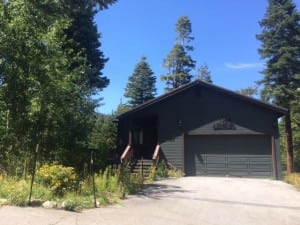 Home for Sale in Mammoth Lakes: Mill Street
Have you been looking for a home in Mammoth Lakes that is private and off the beaten path?  If so, Old Mammoth may be the neighborhood for you… more specifically Mill Street offers privacy and quiet unique even to Mammoth Lakes. Mill Street is a partially improved road maintained by the immediate neighbors and built-up with a variety of home styles.
This street has million dollar craftsman homes as well as older log cabins sitting in a wooded surrounding.  While Mammoth is often thought of as being improved with only traditional mountain subdivisions and conventional homes, the town actually has much more to offer.
160 Mill Street recently became available for purchase to the open market and the setting is spectacular.  After driving up a less conventional road, one arrives at mature landscaping and the entrance to the home; certainly not a unique sight at first, but the home sits atop a local bluff with a seasonal creek at the bottom of a mini gorge. An informal walking path offers easy access to a private bench surrounded by pines.
The home itself is a three story structure with 4 bedrooms, 3 bathrooms and 2,798 square feet of living area.  The most impressionable feature of the home is the
setting.  Upon entering  you walk into an open family room comprised largely of glass.  The family room gives the feeling of living among the trees. Because the lot drops off toward the rear of the property, the family room sits mid-level among old native pines.  There are openings between some tree clusters affording views of the local mountains in the distance.
The lower level of the home has a larger living space ideal for a bunk room, recreation room or quiet office.  The rear balcony is the best point for gaining access to the creek and the gorge.  If a hike to the bottom of the gorge isn't enough, Mill Street dead-ends into Forest Service property offering virtually endless privacy and hiking on public lands. Video of 160 Mill Street
For More information on this beautiful home in the trees visit 160 Mill Street or Matthew Lehman Real Estate in Mammoth Lakes or call 760-934-1110.