Real Estate Market Report for May 2021
Facts, Figures and Other Interesting Information:                                    
As of May 1, 2021
Single Family Homes – Active Listing Information:
The Median (middle of the range) Listing Price for a home in Mammoth Lakes is $2,025,000
The Average Listing Price for a single-family home in Mammoth Lakes was $2,503,437
The lowest listing price for a home in Mammoth Lakes is $525,000
There are 16 single family homes listings in Mammoth Lakes (about a 1-month supply)
Condominiums:
The Median Listing Price of a condominium in Mammoth Lakes is $614,500
The Average Listing Price for a Condominium in Mammoth Lakes is $620,043
There are 44 condominiums available for purchase in Mammoth Lakes
The lowest price active listing condominium is $309,000, the highest is $1,189,000
Year-To-Date average and median active listing prices for single family homes, as well as the lowest priced home, have declined over the past month.
The average and median prices of condominiums have also declined since last month's Year-to-Date analysis.  The number of condominiums available for purchase (inventory) have nearly doubled in the past month.
Article that caught our interest this month.
Single Family Homes
The median sales price for a single-family home, Year-to-Date (YTD) in 2021, is $1,500,000 (up 69% vs. 2020) and down $100,000 compared to last months analysis. In 2020 the single-family home market in Mammoth Lakes produced a total of 126 sales and a median price of $885,000.  The YTD median price is based on 41 sales.
Single-Family Residential History Mammoth Lakes
Condominium Market
The Year-to-Date (YTD) median price for a condominium in Mammoth Lakes was $525,000, which is 16.5% higher than the median price observed for all of 2020. This median price was determined through 156 sales YTD, compared to 442 sales in 2020.
The graph below is a representation of the condominium pricing table above: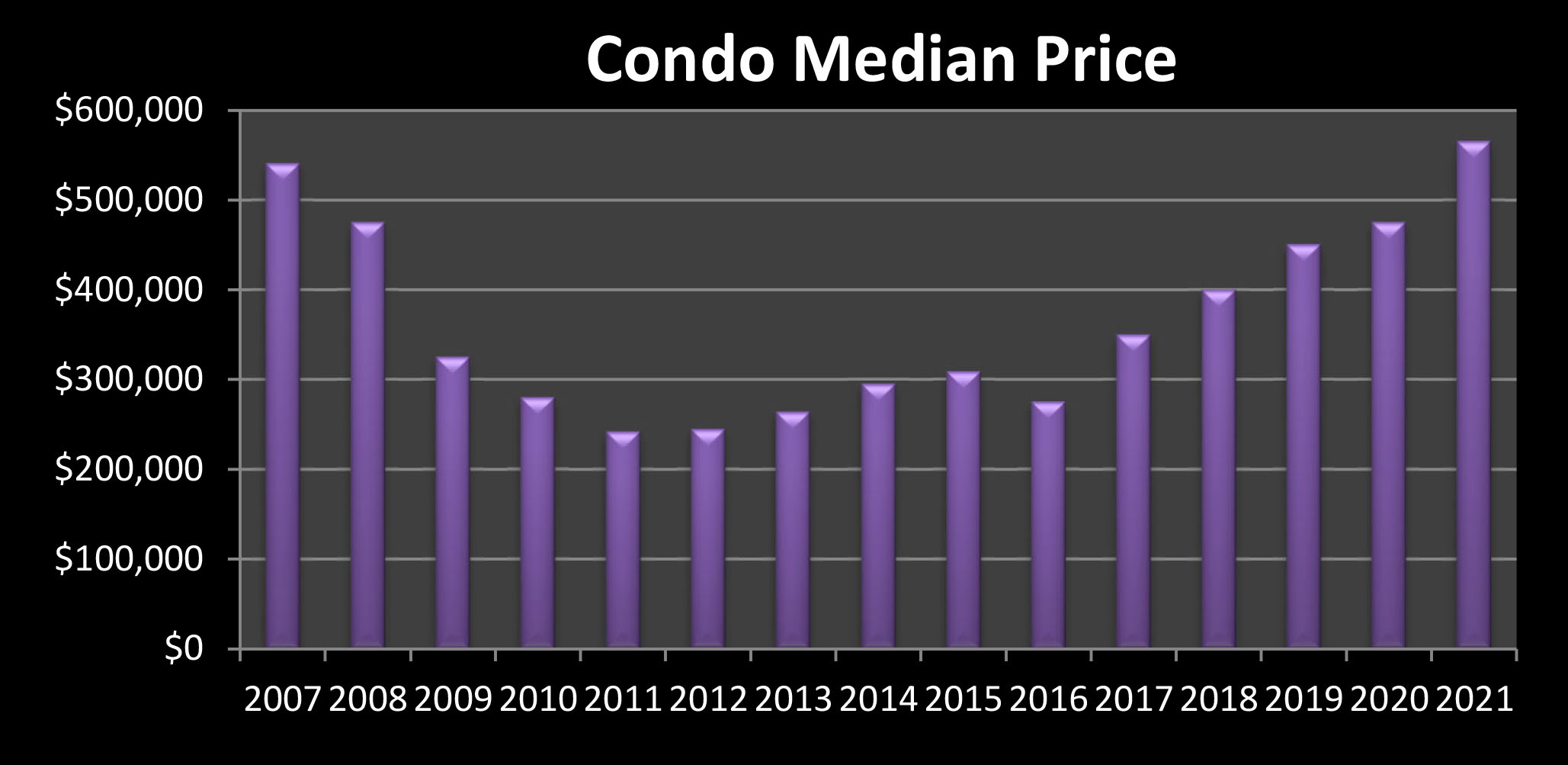 Featured Listings
104 Joaquin Road – Four units backing to a wooded lot and the town multi-use path, only a few steps from Sierra Star Golf Course.   Building includes a detached two-car garage.  All units are two-bedroom units with a bath.  One of the units has been recently upgraded.  Click here for details or call Matthew.
363 Manzanita Road – 5 remodeled units located in heart of Mammoth.  This is a great rental property with a proven stable income.  The property has been well maintained over the years.   This same owner also has two 4-plex properties for sale in the same neighborhood… live in one and rent the other three out.  Ideal for the local business owner to house employees. Visit our webpage or Call Matthew for Details.
168 Mono and 169 Lupin Street – Two 4-Plex properties located adjacent to one another.  Live in one unit and rent out the rest. Very well-maintained apartment units in the center of Sierra Valley Sites.  No vacancies, and each building has 6 garages. Call Matthew for more details. Watch a video for these quality apartments.
Aspen Creek #318 – Walk to Eagle Lodge from this beautifully remodeled, spacious, one bedroom-one bath condo with vaulted ceilings, no upstairs neighbors, and tons of storage!  The fully enclosed sunroom has large windows that let in your mountain surroundings and warmth, while providing easy storage for wood and toys. The open concept kitchen has granite countertops, soft close drawers, and ample storage. The kitchen opens to the living room and dedicated dining space for easy entertaining and time with your friends and family.  Visit our 3D virtual tour.